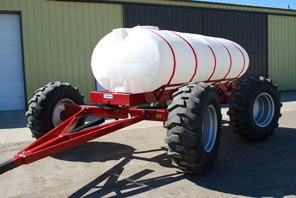 Liquid Fertilizer Carts from Agro Valley

Authorized dealer of liquid fertilizer carts for Force Manufacturing, Valley City, ND.
Check out a cart for your liquid farm fertilizer application!
Powder Coat Paint
Using only powder coat paint helps to keep shine, durability, and better resale value. Color available in green, red, or black.
Quad Steer
Our axles turn together to pull behind implements for easy spreading of agricultural fertilizers. Rear wheels follow same wheel track as the front, to minimize compaction and crop loss.
Telescoping Hitch
Our carts have extendable hitches to reach into hard to reach places. Hitches start at a length of 11 feet and extend to 14 feet.
Spindles and Hubs
Carts come with 8 bolt hubs, and 6,000 lb. 3 inch diameter spindles, which provides reliability in rough conditions.
Elliptical Tanks
Den Hartog Ace Roto-Mold Elliptical Tanks are used and carts come standard with 1600 gallon tanks with 6 inch sump. Other sizes available upon request. Colors available in white or yellow.
Steel Frame Work
We price ourselves in the superior craftsmanship of our steel work. Tubular steel is boxed in with corners shaped and rounded to provide a clean and finished look.
Heavy Duty Tires & Rims
Titan Heavy Duty 10ply implement tires are used on carts and comes standard with 18.4-26 tires. Other sizes are available upon request. Carts are equipped with Unverferth Rims, to provide toughness and dependability.
Axles
Carts come with a 120 inch wheel base for 30 inch rows.
Ratchet Straps
Ratchet straps that are easy to tighten eliminates the need to fight nuts and bolts to tighten the straps.
5th Wheel
Axles pivot on a greasable 5th wheel for easy turning on uneven terrain with heavy loads